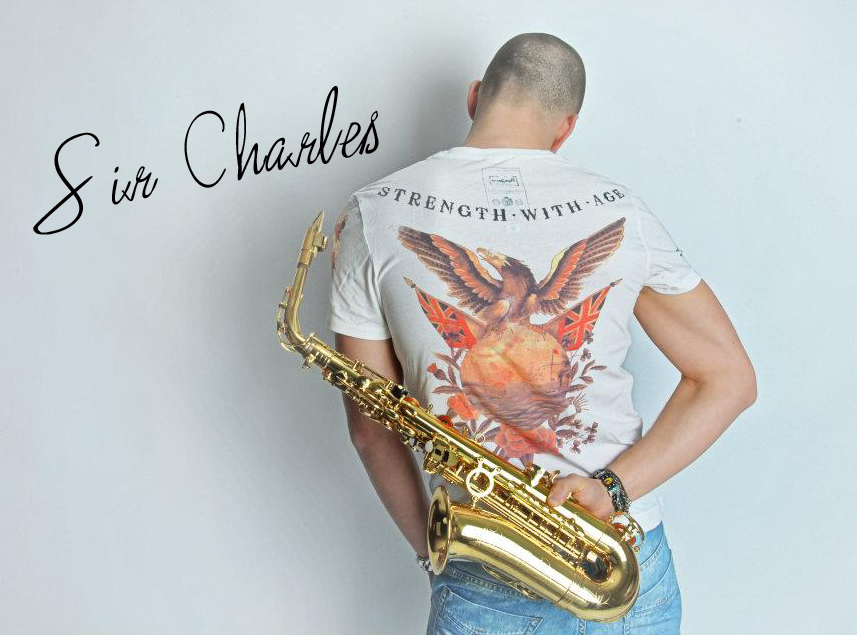 ABOUT SIR CHARLES
It is from the age of 7 years that Sir Charles devotes in the saxophone. He is accomplished musician today and obtained a Master's degree to the Royal Music academy of Mons & Brussels (Belgium). It is in 2002 when he begins to share this art with some dj of his region and then makes us discover the alchemy of this instrumental mixture. Today he represents itself with Belgian and International Dj and also works within the framework of several productions.
PLAY WITH
Klingande / Robin Schulz / Henri PFR / Deepend / Phil Weeks / Faul & Wad ad / Dj FunkAgenda / Dimitri From Paris / Niki Belucci / J.D. Davis / Dj Rae / Jack de Marseille / Jetlag / Dj Furax / Mademoiselle Luna / Iban Mendoza (SpaceIbiza) / Dj Milo / Smos and Baby Bee / Dave Lambert / Vernon / Charles Shilling / Renato Marquez (Violin) Edmundo Carneiro (Saint Germain's percusionist) / …
WORKPLACES
TOMORROWLAND (BE)
TAHITI BEACH (FR)
BORABORA Ibiza (SP)
SHOWCASE Paris (FR)
LIDO Paris (FR)
WKND CLUB (CH)
HAERTEREI CLUB (CH)
RESI CLUB (DE)
FASHION CLUB de Bratislava (SK)
CITY PARADE (BE)
MERCEDES BENZ (BE – DE – SK – NL – IT)
L'OREAL (FR – BE)
FOLIES BOURGEOISES (EU)
MARTINI (BE)
SPIRITO (BE)
YOU NIGHT CLUB (BE)
DE6BELS AWARDS (BE)
DUPLEX (SK)
ANNEX NIGHT CLUB (WI-USA)
SPRING BREAK Cancun (ME)
PAMPELONE BEACH ST TROPEZ (FR)
RETRO STRASBOURG (FR)
BYPASS (LU)
FOREST NATIONAL (BE)
CARRÉ (BE)
LA ROCCA (BE)
SETT CLUB (BE)
NOXX (BE)
FASHION TV (EU)
FIESTA CLUB (BE)
SNOEPYS (SP)
UNDERGROUND (SP)
JEFFERSON STREET INN (WI-USA)
JACK MILLION BAND MAASTRICHT (NL)
THE NEW BEAT'S BAND (BE)
WEST-HOTEL CLUB Bratislava (SK)
FASHION CLUB Bratislava (SK)
TOUR & TAXI (BE)
METROPOLIS (BE)
D6BEL ON STAGE (BE)
RTBF TV (BE)
LE CHARDONAY (WI-USA)
LOUISE GALLERY (BE)
FRANCOFOLIES (BE)
DOUR FESTIVAL (BE)
…
A PROPOS DE SIR CHARLES
C'est dès l'âge de 7 ans que Sir Charles s'adonne au saxophone. Il est aujourd'hui musicien accompli et a obtenu un Master au Conservatoire Royal de Musique de Mons et Bruxelles. C'est en 2002 qu'il commence à partager cet art avec certains Djs de sa région et nous fait alors découvrir l'alchimie de ce mélange instrumental. Aujourd'hui, il se représente aux cotés de Djs belges et internationaux. Il sillonne les clubs et travaille aussi dans le cadre de plusieurs productions.
JOUE AVEC
Klingande / Robin Schulz / Henri PFR / Deepend / Phil Weeks / Faul & Wad ad / Dj FunkAgenda / Dimitri From Paris / Niki Belucci / J.D. Davis / Dj Rae / Jack de Marseille / Jetlag / Dj Furax / Mademoiselle Luna / Iban Mendoza (SpaceIbiza) / Dj Milo / Smos and Baby Bee / Dave Lambert / Vernon / Charles Shilling / Renato Marquez (Violin) Edmundo Carneiro (Saint Germain's percussionist) / …
A JOUÉ POUR
TOMORROWLAND (BE)
TAHITI BEACH (FR)
BORABORA Ibiza (SP)
SHOWCASE Paris (FR)
LIDO Paris (FR)
WKND CLUB (CH)
HAERTEREI CLUB (CH)
RESI CLUB (DE)
FASHION CLUB de Bratislava (SK)
CITY PARADE (BE)
MERCEDES BENZ (BE – DE – SK – NL – IT)
L'OREAL (FR – BE)
FOLIES BOURGEOISES (EU)
MARTINI (BE)
SPIRITO (BE)
YOU NIGHT CLUB (BE)
DE6BELS AWARDS (BE)
DUPLEX (SK)
ANNEX NIGHT CLUB (WI-USA)
SPRING BREAK Cancun (ME)
PAMPELONE BEACH ST TROPEZ (FR)
RETRO STRASBOURG (FR)
BYPASS (LU)
FOREST NATIONAL (BE)
CARRÉ (BE)
LA ROCCA (BE)
SETT CLUB (BE)
NOXX (BE)
FASHION TV (EU)
FIESTA CLUB (BE)
SNOEPYS (SP)
UNDERGROUND (SP)
JEFFERSON STREET INN (WI-USA)
JACK MILLION BAND MAASTRICHT (NL)
THE NEW BEAT'S BAND (BE)
WEST-HOTEL CLUB Bratislava (SK)
FASHION CLUB Bratislava (SK)
TOUR & TAXI (BE)
METROPOLIS (BE)
D6BEL ON STAGE (BE)
RTBF TV (BE)
LE CHARDONAY (WI-USA)
LOUISE GALLERY (BE)
FRANCOFOLIES (BE)
DOUR FESTIVAL (BE)
…